Venture capital investing in the U.S. hit $136 billion in 2019 and deal activity maintained momentum in 2020's Q1.
Now, with the fallout from COVID-19 and the uncertainty of the current economic environment, investments and IPO activity are expected to drop in 2020.
"First-time fundraising will be felt the most" – only 9 first-time have closed so far in 2020, compared to more than 49 raised each of the last three full years.
In contrast, China is poised to a comeback.
After its slowdown prompted by the pandemic, Chinese firms "recorded 66 venture capital deals for the week ended March 28, the most of any week in 2020"
To help us understand the current investment trends, we invited a VC who is very active in the U.S., China and LatAm.
In a conversation with Andy Tsao, Managing Director of Silicon Valley Bank, he'll share his perspective on how the pandemic is impacting global markets and the role GGV is playing on fueling startups that evolve into unicorns – he's invested in 16 unicorns so far, including Airbnb and Xiaomi.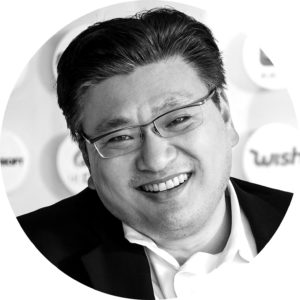 Hans Tung invests in internet and ecommerce ecosystems globally.
He is consistently recognized among the top venture capital investors in the world, having been named to the Forbes Midas list eight times from 2013-2020, most recently ranking #10, and named to the New York Times/CB Insights Top 100 Venture Capitalists list four times from 2016-2019, most recently at #18. Read More
He was also recognized among the top 100 Asian Americans by Gold House in 2018. He has invested in 16 unicorns, many of them early stage, each now valued at more than $1 billion: Affirm, Airbnb, Bytedance, Coinbase, Lime, Meili, OfferUp, Peloton, Poshmark, Slack, SmartMi, StockX, Udaan, Wish, Xiaohongshu and Xiaomi. Hans is also the co-host of the popular podcast, "Evolving for the Next Billion" on entrepreneurship in the US, China, India, SE Asia and Latin America.
Born in Taiwan, Hans grew up in Los Angeles and attended Stanford University, graduating with a B.S. in Industrial Engineering. In 2005, as an Asian American, he was among the first Silicon Valley VCs to move to China full time, spending eight years investing in the fastest changing tech landscape in the world before returning to Silicon Valley in 2013 to join GGV Capital to focus on globally-minded founders in the Americas and Asia.
Hans was an early investor and former board member of Xiaomi—most recently valued at $27 billion—and Musical.ly, which was acquired by Bytedance for around $900 million in 2017. He has actively worked with Airbnb co-founder Nathan Blecharczyk on Airbnb's China strategy, and helped broker Uber co-founder Garrett Camp's first meeting with Didi Chuxing in 2013. A well-recognized investor with global perspectives, Hans' portfolio at GGV spans six cities across the US as well as three continents.
Watch the live chat with Hans Tung