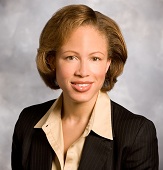 Karesha McGee, Executive Communications, Office of the Chairman and CEO, Cisco Systems
BayBrazil: You recently traveled to Brazil with a group of California professionals invited by the Rotary Club. How was your trip?
Karesha McGee: The Rotary International Group Study Exchange (GSE) was incredible! A truly life-changing experience! A group of four of us from the Bay Area traveled to Minas Gerais, and in only one month we visited 12 cities: Belo Horizonte (Brazilians call it "BH" or Bay-Agah for short), Itauna, Itapacerica, Formiga, Tiradentes, Divinopolis, Lavras, Piumhi, Pains, Carmo do Rio Claro, Monte Siao, and finally, São Lourenço for the Rotary District 4560 conference. We toured local businesses, universities and historical sites, and lived with different Rotarian host families in each city we visited. Along the way we listened to some incredible music, learned some fun dances and ate some amazing food!
BayBrazil: Was it your first time in Brazil? Tell us your impression of the country.
Karesha McGee: Yes, this was my first time in Brazil, as well as my first time learning and speaking Portuguese. I loved every minute of it! There is a wonderful warmth, a passion and a soulfulness in Brazilian culture (and in the people themselves) that I find hard to describe: it's in the food, in the language, in the dances, in the music — even in the way friends greet one another on the street!  Everyone we met was so welcoming, and their hospitality left quite an impression on me and our extended GSE team. Minas Gerais itself is a beautiful region – rolling hills, long stretches of green grass and breathtaking landscapes. The architecture of many of the churches and buildings we visited was beautiful and it was exciting to see the mixture of influences from other countries around the world. There is so much happening in Brazil right now – politically, economically and socially – so it was interesting to hear the different perspectives from the various families with whom we stayed. In each house, we tried different types of foods (more on that in a second) and listened to different kinds of music from Samba and Bossa Nova to Sertanejo, to Forro and MPB. About the food… that was definitely a highlight of the trip for me! From the pao de queijo (cheese bread) to the rice and beans and all of the incredible meat dishes, everything we tasted was savory and delicious. The fruit—the mangos and papayas in particular—were wonderfully sweet, and I had Guarana for the first time which was also great!
BayBrazil: What can you tell us about the way Brazilians do business?
Karesha McGee: We were fortunate to visit several businesses while in Minas, from large multinational companies to small family-owned operations. Some of the places we toured included a steel factory; a graphite mining company; a small radio Internet Service Provider;  a rural credit cooperative; a family-owned dairy, coffee and cachaça farm; a bottled water manufacturer; a local supermarket chain; an artisan jewelry store, and a clothing manufacturer. While each of these businesses were very different, the common thread was that each of the Brazilian businessmen and women we encountered were extremely hardworking, and constantly trying new things, and seeking out new ways to innovate, whether trying a different marketing strategy, or developing a new process to increase productivity.
BayBrazil: How this experience impacted your professional career?
Karesha McGee: The Rotary GSE program played a tremendous role in my professional development and I continue to be amazed by how much I learned while visiting Minas. Because I work in a large, multinational organization, having a strong understanding of the language and culture of one of the most significant economic regions in the world enables me to better serve my company, and helps me continue to grow as a businesswoman. In traveling to Minas and meeting with several small and medium business owners, I was able to develop a better understanding of entrepreneurship and innovation, as well as the role in which technology can impact various industries from education to agriculture to finance. I was also able to learn about business etiquette in Brazil, observing first hand how Brazilians do business and how their style differs from other cultures around the world."
BayBrazil: What should everyone know about Brazil?
Karesha McGee: It is difficult to make a general statement about Brazil — it is such an incredibly diverse and beautiful country! Since I've returned home, I've been telling everyone about how wonderful my experience was and about the kindness and generosity of the people. The one thing everyone should know about Brazil is that they need to plan a trip there!