A pioneer among women investing in Venture Capital in Latin America, Laura launched Astella Investimentos in 2008 along with Co-founder Edson Rigonatti.
She has seen the entrepreneurial evolution in Brazil from its infancy and, in this conversation, Laura reflects on the current startup boom, the opportunities and unmet needs of female consumers, and offers a unique view on what will take for Brazil to close the gender gap in the venture industry.
BayBrazil: You launched Astella Investimentos back in 2008 when the VC industry in Brazil was in its infancy. What motivated you into venture capital?
Laura: Back in 2008, I had already worked in two of the largest investment banks in Brazil – Garantia, at that time, recently acquired by Credit Suisse, and Santander. As a sell-side research analyst for the telecom and technology sectors, I built a network of people that could help me understand trends and technical details. Edson was one of those people that I would talk to regularly, and we became friends.
After 9 years doing research, I decided to explore alternatives in my carrier. I was looking into two alternatives: (i) going to the buy-side or (ii) to M&A.
In one of my conversations with Edson, I found that he had left Lucent to open the Brazilian office (branch) of an M&A boutique focused on telecom and cross-border deals. After a bunch of conversations with him and his partner, I decided to join the team. The telco sector in Brazil and Latam were consolidating after privatizing the systems throughout Latam. Cicerone Capital was ready to advise and help the target companies prepare their processes for sale to the big global players Telefonica, Telecom Italia, Telmex, etc.
In three years after an intense consolidation movement, the entire system became dominated by the players still operating in Brazil and Latam. So the opportunities for M&A deals were over.
We started to think about what to do next. One of the things that we did as a brainstorming effort was map what we loved to do. We concluded that the deal per se was an exciting consequence of an enjoyable process of preparing those companies for the M&A transaction. We loved to sit down with the team to understand the company's business plan, each area's economics, synergies with potential acquirers, new business opportunities, partnerships, etc.
Interestingly a few startups started to look for us for help to build their businesses, and Endeavor had just arrived in Brazil. Edson was the first to fall in love with the entrepreneur mindset and joined Endeavor with the idea of helping those companies to thrive. His enthusiasm contaminated me immediately, and we decided to build a VC firm to be part of this nascent innovation ecosystem in Brazil.
BayBrazil: Today the scenario is quite different. The country has over 200 fund managers. Corporate VCs, angel networks, family offices are now actively investing in startups. What are the main causes of this boom?
Laura: I see several essential elements in place now that make this scenario a reality.
(i) the main characteristics of the current tech revolution – it is much easier to build a tech company now. You can hire almost everything "as a service" and grow your infrastructure incrementally. Therefore, entrepreneurs can start a business with fewer resources than before and hire more capacity as they grow. The implications are twofold: the first is to reduce risk and, therefore, increase trial and error possibilities, and the second is to allow the construction and sophistication of the product while testing with your users' experience.
(ii) the absence of dependence on public policies from the government. For the first time, we can completely change the business landscape of Brazil and Latam (similar to what happened in the US) without the need for government incentives, subsidies, or even approvals for the existence and survival of tech companies.
(iii) the virtuous cycle created with the success of several startups. The first success stories reinforced the possibility of creating new businesses in the region, which attracted more capital and new entrepreneurs. Not only that, several first-time entrepreneurs, after their first journey, successful or not, returned to a second journey with more experience and lessons learned to solve a different pain point in society.
(iv) finally, from 2015 until the beginning of this year, Brazillian Central Bank adopted an expansionary monetary policy, dropping interest rates from an average of 15-16% to an all-time low level of 2% per year. Family offices and investors, in general, started to look for alternatives that could potentially provide higher returns.
BayBrazil: Brazilian startups are riding their best wave ever. In this past month of August alone, raised US$772 million, 3 times more than the total raised in Aug of last year. And, SoftBank just launched its 2nd dedicated fund to invest in Latin American companies. How do you see the group's commitment to the region?
Laura: This scenario of much larger liquidity and availability of resources for VC is seen in other countries. At this point, I would expect other large groups of investors and VCs to come to Brazil. Our ecosystem is robust, as we mentioned before. Brazil proved the ability to create global companies and unicorns. In my view, Softbank is smartly allocating resources in a market that still has opportunities and potential to absorb resources and provide good returns.
BayBrazil: Do you have a preferred sector to invest in? Tell us about your latest investments and what is next for Astella.
Laura: I don't have a preferred sector. We are seeing interesting businesses coming out of a variety of sectors. I am particularly excited about two trends:
(i) the SaaS market-places platforms – a regular SaaS that brings a solution for their clients to improve their businesses with more efficient processes and aggregates financial services or the possibility of doing transactions inside the platform.
(ii) the migration of the traditional sales strategies to PLG – product-led growth.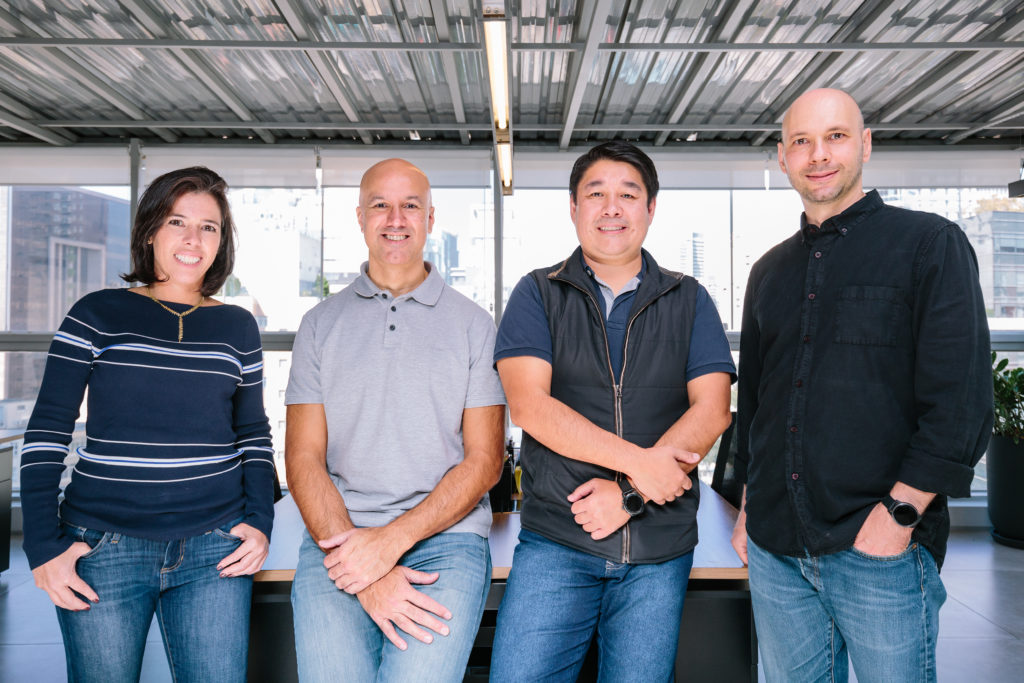 Laura with Astella's Co-founder & Partner Edson Rigonatti and Partners Marcelo Sato and Daniel Chalfon
BayBrazil: Astella's motto is to invest in entrepreneurs who will change Brazil's future.
What are some of the top priorities for things Brazilians need to build – both in the private and public sectors – to come out of the pandemic stronger and be more competitive globally?
Laura: In general, technology is improving businesses by bringing more efficiency and transparency and providing the possibility of accessing new markets, clients, and services. From the moment that tech solutions enable companies to do more with fewer resources and enlighten business owners with more accurate information to help decision-making processes, it changes the dynamics of the entire economy. It potentially makes the country more competitive.
Globally the pandemic forced the adoption of remote work solutions. In Brazil, retailers' adoption of tech solutions during the pandemics, for example, transformed the sector. It allowed the industry to continue to sell, despite the need to shut down the stores and keep part of their workforce employed because tech tools enabled other sales channels and decentralized, remote sales efforts.
The pandemic also reinforced the need of our society to look for solutions to bring more access to primary remote health care. The need to increase the capacity to monitor and take care of a more significant number of people became even more evident. In the future, we will need to make the entire Brazilian health system more efficient. The country that is not forming the number of physicians and practitioners required to attend the whole population. As a result, we are experiencing the creation of several startups and business models to address this pain in many different ways.
As it is a reality worldwide, there is an increased gap in workforce supply for the new economy. As a result, we now see many startups and the private sector address the need to increase the availability of educational, training, re-skilling, and upskilling initiatives.
And finally, considering the increase in government expenditure with social programs because of the pandemics, we understand that the ability of hiring new people by government entities and services will reduce significantly. Therefore, the only way to keep up with the current level of services and demand is to adopt tech solutions. Thus, the Brazilian government will hire a large number of solutions created by startups going forward.
BayBrazil: Across the globe, women are under-represented at partnership level in venture firms. A study by Women in VC found that of all U.S.-based VC partners, only 4.9% are women and less than half (2.4% of the total) are founding partners. How is it in Brazil? What will it take for Brazil to close the gender gap in the venture industry?
Laura: From what I observe, In Brazil, the representation of women in VC funds is very similar to the US. The formation of a VC partnership emerges from one of the three possibilities: tech founders who had a liquidity event, tech executives who merge to VC or professionals who migrate from other sectors of the financial industry, such as in the case of Edson and I, at Astella. Since the tech and financial industry is male dominated, so is VC. This is slowly changing, though.
Another point which is important to look at is that these industries are predominantly science based, and the number of women enrolled in these classes are much smaller. There are various studies on this, and one I find interesting is by Stanford math professor Jo Boaler, where she shows that math oriented studies is harder for women, as they need more support to identify and recognize that they dominate the subject. This also applies to when you ask a woman about how much she dominates in her curriculum she will say she dominates less than a man would; this is even stronger when talking about exact science. Jo Boaler's term for this is "mathematical anxiety"; and it causes a vicious cycle of aversion to the topic due to the self demand. This all rolls up to why we have less women in VC. To tackle this, the learning needs of women, such as rhythm, need to be better addressed in schools.
Besides this, there is also low awareness of how VC is actually more of a human science and there is no need of an exact science background to be a VC; there is space and need for different perspectives and backgrounds to evaluate good teams, products, trends, etc.
BayBrazil: Is there a correlation between the number of women VC partners and the number of women-led startups? Will female founders receive more capital as more women become VCs?
Laura: Yes, because female founders address feminine related pain points; these may be related to fertility, sexual pleasure, woman products, woman led service hiring, etc, and the chance of these pain points being tackled better by a woman is greater because she is closer to the pain. That being said, I believe that women VCs who understand the size of these markets and pain points will undoubtedly drive more resources to tackle them.
What is also interesting is that women are practically half the world's population, with a similar purchasing power and have less innovation addressing their issues. This means there is a non consumption and bigger space for innovation. As one example, we have Dollar Shave Club for men, but we don't have anything similar to deliver feminine products for women on a recurring basis, when ironically, we have more "need" on a monthly basis than a man has for shaving. To be fair, in the US, there are a few startups addressing the issues above, but in Brazil it's still in its early days.