BayBrazil & Apigee present:
Entrepreneurship in Brazil
When: Thursday, Feb 19, 6pm-9pm
Location: Apigee, 10 South Almaden Boulevard, San Jose. Free parking available.
If you plan to attend the event make sure you pre-register. Price at the door will be: $25 Members, $45 Non-Members
According to Global Entrepreneurship Monitor, Brazil is one of the most entrepreneurial countries in the planet, with about 36 million individuals engaged in some venture activity.
Despite a sluggish economy and thanks to a rising middle class with increasing internet access, the web market is flourishing and fueling the entrepreneurial ecosystem.
However, entrepreneurs face enormous challenges when it comes to innovate and compete globally. The capacity to attract and retain skilled labor is particularly tough in Brazil and other emerging economies, impacting their ability to tackle unmet market demands for much needed services and products.
As a partner in the Global Innovation Week, BayBrazil & Apigee will present a special program on Entrepreneurship in Brazil and other emerging markets.
On Feb 19 join us to discuss the challenges to form and support talented entrepreneurs around the world. Meet investors and founders who have navigated the dynamics of the Brazilian and other major markets. Reflect on the correlations between ingenuity & economic progress and the bond between entrepreneurship & innovation.
Speakers: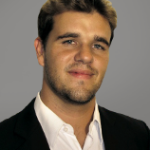 Antoine Colaco: Valor Capital Group
Fred Aslan: Advance Medical, Venrock
Gustavo Lemos: IDXP
Mariana Donangelo: Accel Partners
Victor Hwang: T2 Venture Creation
Agenda
6pm: Cocktail reception (complimentary appetizers and drinks will be served)
6:45pm Introduction and panel discussion
8:15pm Networking
9pm: Adjourn