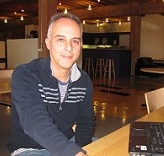 Celso Aguiar, Senior Software Engineer at MySpace
BayBrazil: What brought you to California?
Celso Aguiar: I came to Stanford University to do a PHD in Music and Acoustics at CCRMA. I happen to be born in Stanford of Brazilian parents.
BayBrazil: What challenges you the most as a Senior Software Engineer at MySpace?
Celso Aguiar: Keeping up with the number of technologies you have to be aware or interact with. Changes are always happening in the company and you have to keep a welcoming attitude to change.
BayBrazil: In the last few months, MySpace has gone through a number of changes, laid off 30% of its staff. How is MySpace planning to keep up with Facebook's growth?
Celso Aguiar: MySpace is trying to undergo a transformation from a social networking site to a social-media one. It's not clear yet what that is. I particularly would like to see more social network befriending based on musical taste, for example. Better media recommendation needs to be developed. Musical information retrieval needs to be applied to the audio itself for better quality recommendations.
BayBrazil: How musicians can use MySpace to increase their popularity?
Celso Aguiar: Sign up for an account and upload your songs, many artists in Brazil do exactly that. Make connections in the genre of music you make, explore the environment, get to know who is doing similar music to what you do. Don't be afraid to upload your songs, we don't condone illegal downloading. Post your shows date/location and share your ideas.
BayBrazil: What are the latest trends on social networking?
Celso Aguiar: Social networks are popping up in many places. Social networks applied to teaching and education is one of the areas that could result in interesting developments. Online media aggregation tools (eg: Boxee.tv) are starting to go social.
BayBrazil: ORM, online reputation management, addresses the concerns of individual and companies who want to control how they are perceived online. Can you give some tips to BayBrazil members on how to stay out of trouble when using social media sites?
Celso Aguiar: Make sure to know and use the filtering tools your social-networking site makes available to control your privacy, especially on how/who can have access to your data.
BayBrazil: What is the future of content sharing on the web?
Celso Aguiar: We're living a time of many options and a lot of openness on the web. I doubt there was a time before when there was so much art, media and information available for free everywhere. If anything it's going to be hard to get more open than that, so the tendency would have to be the other way around. Media companies are getting smarter and know they cannot charge as they used before, the consumer just won't buy. Little by little label companies are 'herding cats' (eg: MySpace buying iLike, iMeem) so they can implement 'pay-for-service' sites where for a fee you can listen to anything you want.
BayBrazil: How diverse is your office in SF? What is the impact of your Brazilian background on your workplace?
Celso Aguiar: Very diverse, we have people from all creeds and walks of life, bringing large diversity of experience to the working place. It's a real brain-trust these companies acquire when they hire diversely. Being from Brazil is always welcome, by nature we have a personality to strike positive relationships.
BayBrazil: In your view, what brings professionals close in the multicultural Silicon Valley?
Celso Aguiar: Lots of career opportunities, diversity, a chance to work with people at the top in your field.
BayBrazil: Describe your relationship with Brazil today.
Celso Aguiar: My whole family lives in Brazil and it's hard to keep up with their changes. I try to go back once every one or two years. My dream is to be able to share this experience we acquire here w/ fellow Brazilians. An engineering company doing off-shore work from Brazil would be a nice option.