BAYBRAZIL ANNUAL CONFERENCE EDITION #5
From a 7.5% GDP growth, in 2011, to the worst recession in history, in 2016. The backwards turn Brazil took in just about 5 years was unimaginable by many. It shocked even Brazilians who have experienced past crisis.
The troubling economy coupled with the largest corruption scandal in the country's history couldn't come at a worst time, when the eyes of the world will be soon upon it, as Rio de Janeiro prepares to host the Olympic Games.
Inflation and unemployment have soared with 11.4 million Brazilians currently unemployed, up nearly 20% from a year ago. Bankruptcy filings have doubled, the most recent case, telecom Oi SA, is also the country's largest.
On top of that, the massive corruption scandal at oil company Petrobras led to criminal charges against politicians and business men for a bribery scam worth billions of dollars.  Several Petrobras executives, contractors and politicians have been implicated, President Rousseff has been suspended for allegedly using accounting maneuvers to cover up a budget deficit.
As a result, the market has crumbled, the economy is expected to contract 3.8% this year leaving many concerned about the region's stability.
However, macroeconomics and information technology are less attached than one may think.
Tech spending in Brazil is rising and entrepreneurship is flourishing.
According to an IDC study, the Brazilian IT market will grow 2.6% this year. Ecommerce and web services have grown over 20% in the last few years, online sales surpassed $10 billion in 2015, up 15% from previous year. Moreover, the country has one of the fastest growing smartphone markets in the world. Studies show that Brazilians are increasingly using their phones to purchase products and services online. 45% of the Brazilian Internet users made some type of payment via smartphones in 2015, up from 21% in 2014.
Plugged into this new mobile & social media-fueled reality, a fresh batch of entrepreneurs are building solid companies while riding the crisis.
For all the above, Brazil remains a top market for American enterprises, some of which will be represented at our conference to discuss trends and opportunities.
Meet the people who are shaping the tech industry in America & Brazil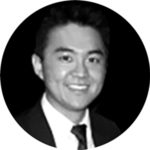 ALEX TSAI
Head Marketing Bus.
Dev.LatAm,  Alibaba
Alex develops go-to market and strategic partnerships for Alibaba.com, the leading global B2B e-commerce platform, in the Americas region. Prior to Alibaba, Alex was leading Global Digital Marketing at PayPal.

ALICE FERRAZ
Founder & CEO
Fhits
Alice Ferraz leads the dominant Brazilian digital media platform of influencers in fashion and lifestyle. She founded Fhits in 1997 to help clients win space in the marketplace through hundreds of blogs that gather the largest female audience in the country.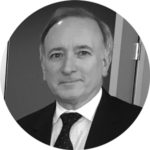 AMBASSADOR PEDRO BORIO
Consul General, Consulate General
of Brazil in San Francisco
Ambassador Borio has been a career diplomat since 1976. He was Head of Public Affairs at Embassy of Brazil, Washington, 1993-1998; Secretary of Brazilian Mission to UN, New York, 1983-1986; Chargé d'affaires Embassy of Brazil in Tokyo, 1986-1989; Advisory Office of the President, Brasilia, 1990-1992.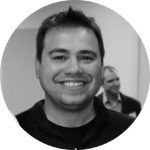 ANDRE MADEIRA
Engineering
Snapchat
Before Snapchat Andre was Sr. Staff Software Engineer at Google leading several projects within Search Ranking to optimize the quality of search results.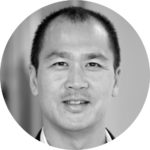 ANDY TSAO
Managing Director
Silicon Valley Bank
Andy is Managing Director of Silicon Valley Bank's Global Gateway, which assists innovation companies in the emerging markets with their US and intl. market expansion. Andy also leads SVB Global PE Services.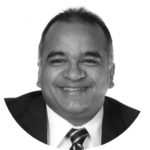 AVANISH SAHAI
SVP of Alliances
InsideSales
Avanish is an India-born, Brazil-raised, US-educated senior tech executive. Before isisdesales, he was CPO at Demand base and held leadership positions at Oracle, McKinsey and Salesforce.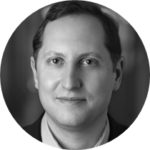 BRETT ROCHKIND
Managing Director
General Atlantic
Brett leads General Atlantic's Palo Alto office and is co-head of the firm's Internet & Technology sector. He works closely with many of GA's global portfolio companies including Airbnb, Altair, Appirio, Box, IHS, SSA Global and Uber in the U.S.; Decolar, Linx and MercadoLibre in Brazil and Latin America.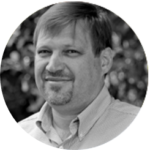 CARLOS KOKRON
VP & Managing Director
Qualcomm Ventures – LatAm
Carlos Kokron is VP of Qualcomm and Managing Director Latin America for Qualcomm Ventures. He is currently scouting companies that will help transform the lives of people and businesses in the region by leveraging the mobile Internet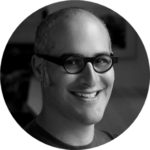 DANIEL TOPEL
New Markets, Brazil Lead
Stripe
Daniel is a Brazilian entrepreneur leading Stripe's expansion to Brazil. Prior to Stripe, he was Founder & CEO of NetMovies and Sr. Business Dev. Manager South America at ILOG.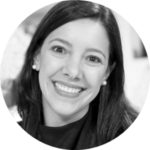 FERNANDA BAKER
Business Development Analyst
Apex-Brasil
Fernanda is based in the San Francisco office of the Brazilian Trade and Investment Promotion Agency. She has been working with international business development, trade promotion and Foreign Direct Investment attraction for 10+ years.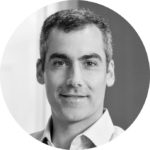 FRED ASLAN
Founder & CEO
Adavium Medical
Fred is an accomplished health care industry expert leading the largest Brazilian medical equipment/diagnostics company. He is also Board Member at BayBrazil & VP at Venrock, the VC arm of Rockefeller family.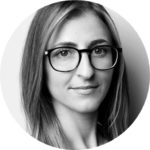 JULIE RUVOLO
Dir. of Venture Capital Latin American
PE &VC Association (LAVCA)
Julie manages LAVCA's venture investor relationships in Latin America and globally, and oversees venture-related educational programs and digital content. Prior to it, she was a TechCrunch contributor for over 3 years.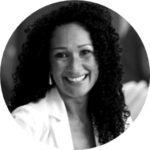 LEILA VELEZ
Founder & CEO
Beleza Natural
Leila started Beleza Natural from scratch, at the age of 19. Currently, the company has 4000 employees, 35 locations and annual revenues of more than $100 million US Dollars.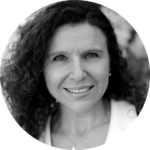 MARGARISE CORREA
Founder & CEO
BayBrazil
Margarise founded BayBrazil in 2010 to build the Brazilian-American tech hub in Silicon Valley and nurture entrepreneurial ecosystems. Before that she worked 7 years as TV broadcast journalist in Brazil.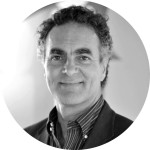 NELSON MATTOS 
Chairman of the Board
BayBrazil
Nelson has a 30-year career as a tech executive. He was Google's VP for Europe and Emerging Markets, an IBM Distinguished Engineer and VP for IT, and a Professor at University of Kaiserslautern.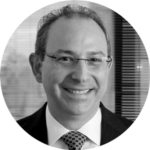 RICARDO NEVES
Tech and Retail & Consumer Leader
PwC Brasil
Ricardo has over twenty-five years of management consulting experience, focused on business transformation programs enabled by digital & emerging technologies for clients throughout Latin America, US and Europe.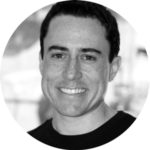 RODRIGO SCHMIDT 
Head of Engineering
Luxe.com, former Dir Instagram
Rodrigo joined Facebook 8 years ago as the first Brazilian engineer. He worked in multiple teams and products including backend infrastructure, Chat, Ads, and Pages, before moving to Instagram 3 years ago to start a new engineering group working on Data and Machine Learning.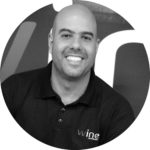 ROGERIO SALUME
Founder & CEO
Wine.com.br
Rogerio leads Wine.com.br, the largest wine e-commerce merchant in Latin America and 3rd largest in the world. Prior to it, Rogerio was an executive in food, beverage and logistics companies, including Smart, of Grupo Martins.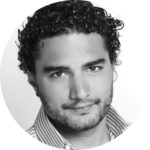 ROMERO RODRIGUES
Managing Director of  
Redpoint e.ventures
Romero Rodrigues is managing director of Redpoint e.ventures, and co-founder & chairman of Buscapé Company, a comparison-shopping service that made 20+ acquisitions and was acquired at a valuation of $374 million.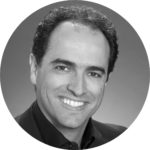 RON CZERNY
Founder & CEO
PlayPhone
Ron serves as the visionary behind Playphone (acquired by GungHo, Softbank Group).  He was the co-founder of the Brazilian Video Game Association and Chairman of Mobile Entertainment Forum (MEF). He's also a BayBrazil Board Member.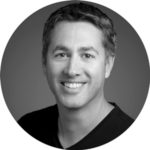 ROY GLASBERG
Founder, Global Manager
Google Global Accelerator
Roy leads the Google Global Accelerator and the Launchpad startup program (Bangalore, Sao Paulo, Jakarta, Mexico City) & Head of Google Launchpad Space in San Francisco. Previously, he was Head of Campus TLV, Developer Relations lead Israel and Europe at Google.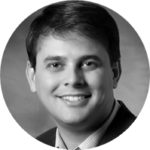 VICENTE GOETTEN
Executive Director
TOTVS Lab
Vicente is an entrepreneur, published author, engineer, tech evangelist. In 2012, he helped TOTVS establish TOTVS Labs to leverage the entrepreneurial environment in Silicon Valley and develop innovative technology for enterprises that help customers grow and compete in a global economy.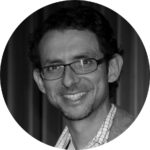 VICENTE SILVEIRA
Head of Fraud
Data Science  at Uber
Besides his role at Uber, Vicente is a BayBrazil Board Member. Previously, he worked 6 years at LinkedIn as Director of Engineering, and 8 years at VeriSign (now Symantec) as Director of Product Management.
Welcome Reception & Introduction
Speakers:
Margarise Correa, Founder & CEO, BayBrazil
Ambassador Pedro Borio, Consul General of Brazil in SF
Roy Glasberg, Founder, Global Mgr, Google Global Accelerator
Destination Brazil
Speakers:
Alex Tsai, Head Business Development, Alibaba
Andre Madeira, Engineering, Snapchat
Daniel Topel, New Markets, Brazil Lead, Stripe
Rodrigo Schmidt, Head of Engineering,Luxe.com, Former Dir Instagram
Vicente Goetten, Executive Director, TOTVS Labs
Moderator: Pedro Donati, Founder Round Pegs, former Dir Digital Channels, Itaú
The Digital Revolution in Latin America
Speakers:
Ricardo Neves, Partner, PwC, Brazil
Alice Ferraz, CEO of F*hits & fashion connector
Moderator: Nelson Mattos, Chairman of the Board, BayBrazil
The Brazilian investment market
Speakers:
Brett Rochkind, Managing Director, General Atlantic
Carlos Kokron, Managing Director, Qualcomm Ventures, LatAm
Julie Ruvolo, Director of Venture Capital, LAVCA
Romero Rodrigues, Managing Director, Redpoint e.ventures
Moderator: Andy Tsao, Managing Director, Silicon Valley Bank
Transportation as a service – the Uber trip in Brazil
Speaker:
Vicente Silveira, Head of Fraud Data Science, Uber
Moderator: Fernanda Baker, Business Development, Apex-Brasil
Navigating uncertainty: meet the Brazilian entrepreneurs who are building great companies while riding the crises
Speakers:
Leila Velez, Founder & CEO, Beleza Natural
Rogerio Salume, Founder & CEO, Wine.com.br
Romero Rodrigues, Co-founder, Buscapé, Managing Director, Redpoint e.ventures
Moderator: Fred Aslan, Founder & CEO, Adavium Medical
Big thanks to our attendees who traveled from various regions to spend the day with us.
Special thanks to our speakers, moderators and partner Google Developers Launchpad.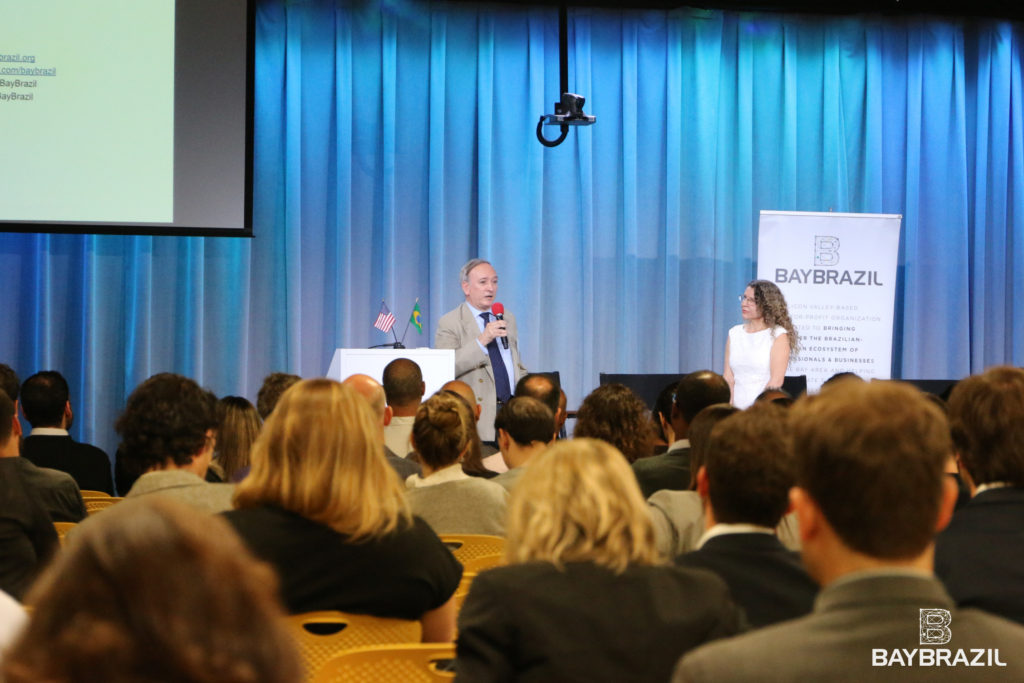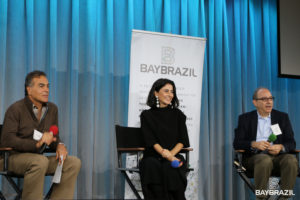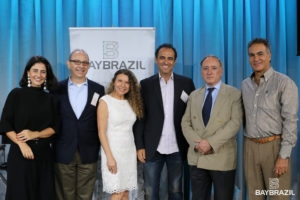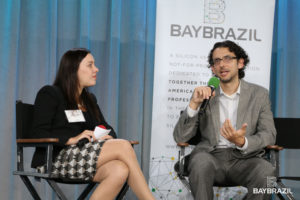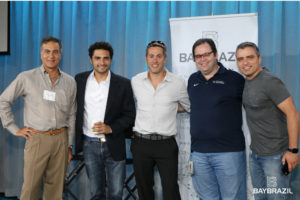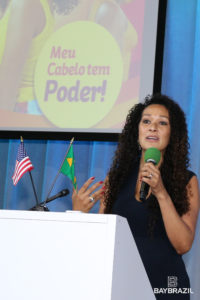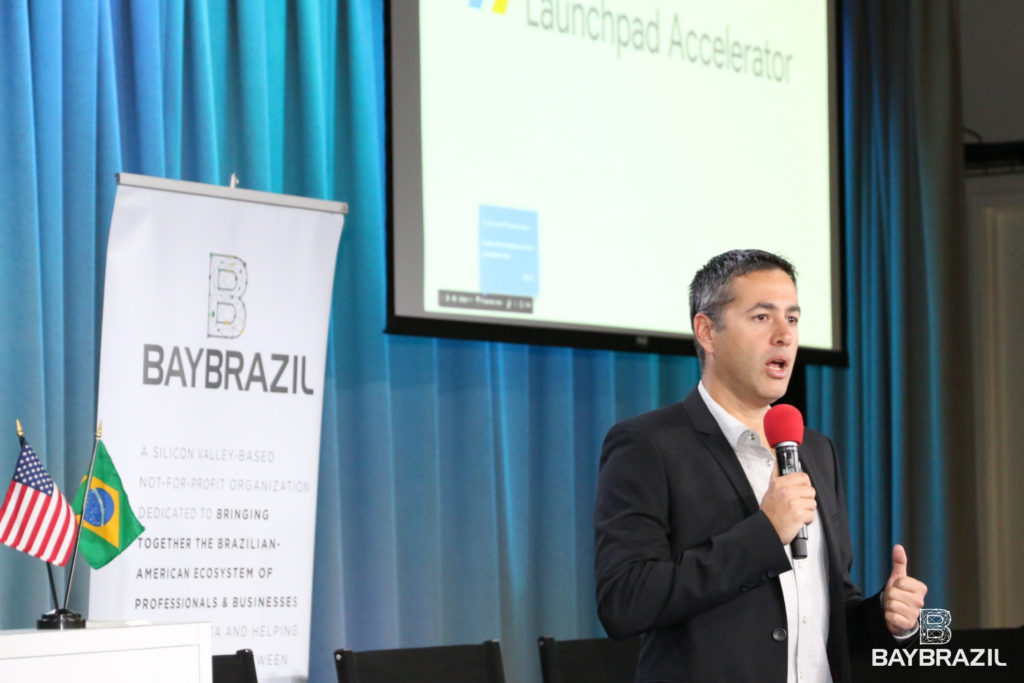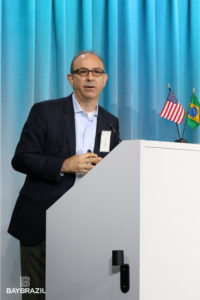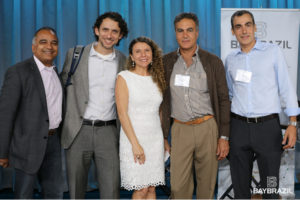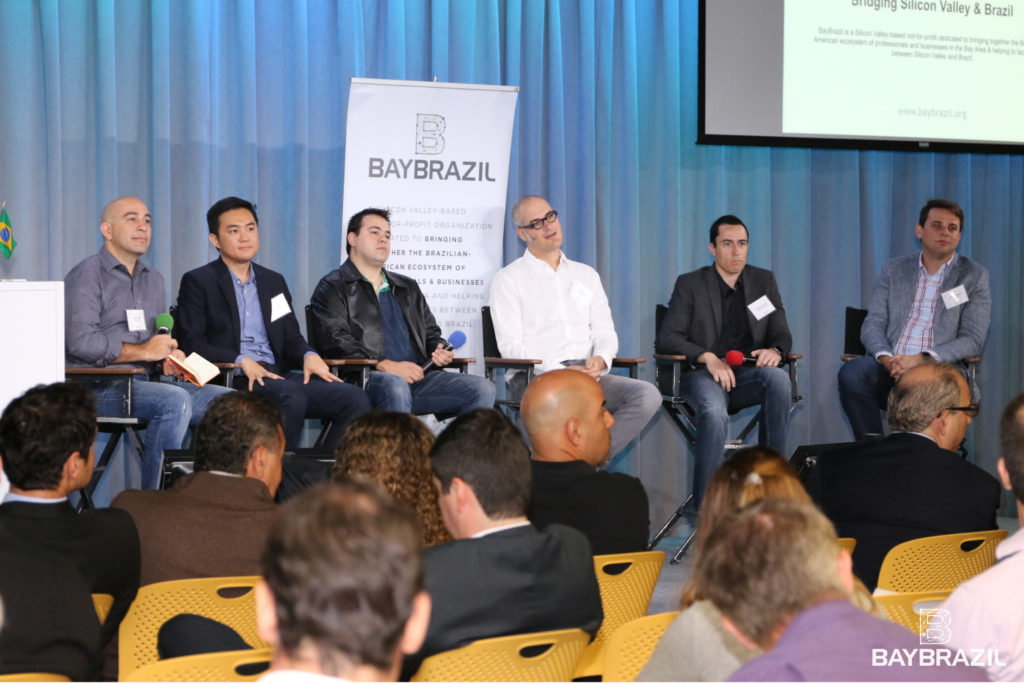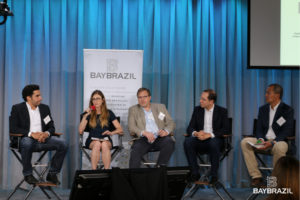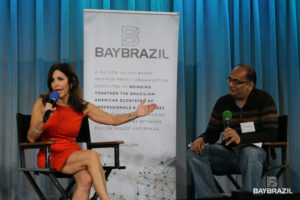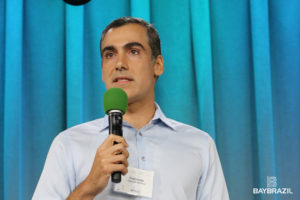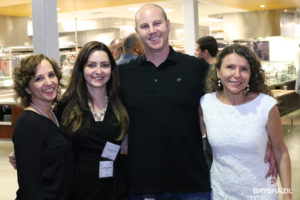 COMPANIES REPRESENTED IN PREVIOUS EDITIONS